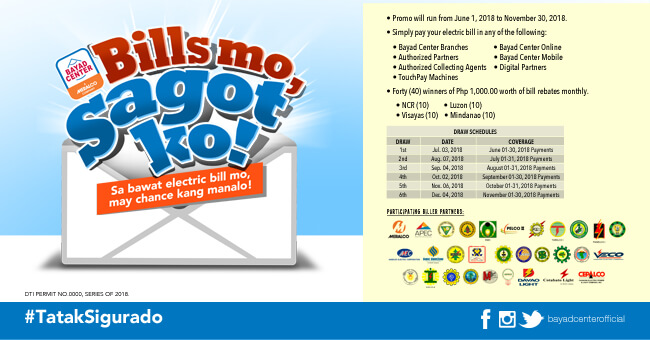 Visit this page regularly to know the latest POSIBLE.NET promotions.
Get up to P1,000 rebate on your electric bill!
Here's the latest POSIBLE.NET promotions for all electric utility subscribers. Bayad Center offers up to P1k rebate on your electric bill with the Bills Mo, Sagot Ko! Promo.
Promo Mechanics
• Promo will run from June 1, 2018 to November 30, 2018.
• A customer paying any of the qualified electric bill/s in any Bayad Center Channel – Branches, Authorized Partners, Collecting Agents, Automated Payment Machines, or its Authorized Digital Channels, automatically entitles him/her to an e-raffle entry. (1 account number/bill paid, per day = 1 raffle entry)
• In compliance with the Data Privacy Act, contact details of the winning Account Number (Complete Name, Contact Number, and Address) will be coordinated by BAYAD CENTER with the BILLER for the notification of winning prize. The personal information will be used solely for the purposes and duration of this promo only.
• Forty (40) winners every month will be drawn via electronic raffle, winning a Bill Rebate worth One Thousand Pesos (Php1,000.00). Winners per major region will be based on the coverage area of the electric bill paid.
a. NCR – 10 winners
b. LUZON – 10 winners
c. VISAYAS – 10 winners
d. MINDANAO – 10 winners
• A customer can only win one Bill Rebate per draw schedule.
• The P1,000.00 bill rebate can be applied to any of the biller partners of CIS Bayad Center with certain conditions that the bill to be paid should either allow under or partial payments, or the bill is below or exactly P1,000.00 pesos. Any remaining rebate balance can be used as advance payment or payment to other bills.
• Raffle draws shall be held in CIS Bayad Center Inc. Head Office (Business Solutions Center, Meralco Compound, Ortigas Ave. Pasig City), with the presence of a DTI representative.
• Winners will be notified via registered mail and/or electronic mail. The winners' names shall also be announced at the Bayad Center branches, Bayad Center website and its digital media assets: Facebook, Instagram, Twitter.
• Winners should provide their winning bill with payment receipt, written notice from Bayad Center, and a primary valid I.D. (i.e. driver's license, passport, SSS ID etc.) in claiming their prize.
• Winners should sign a conformity agreement in acceptance of the full terms and conditions of the promo when applying the bill rebate.
• Other expenses (travel, food, internet, mobile load, shipment, etc.) that will be incurred during the claiming of prizes shall be c/o the winner.
• All prizes are not convertible to cash.
• Bayad Center reserves the right to refuse the redemption of raffle prize if found fraudulent or if complete requirements are not provided. Any disputes will be subject to the decision of Bayad Center in concurrence with DTI.
• All employees and relatives of CIS Bayad Center, Inc. up to the second degree of consanguinity or affinity are disqualified from joining the promo.
Draw Schedules
DRAW DATE COVERAGE
1st Jul. 03, 2018 June 01-30, 2018 Payments
2nd Aug. 07, 2018 July 01-31, 2018 Payments
3rd Sep. 04, 2018 August 01-31, 2018 Payments
4th Oct. 02, 2018 September 01-30, 2018 Payments
5th Nov. 06, 2018 October 01-31, 2018 Payments
6th Dec. 04, 2018 November 01-30, 2018 Payments
Know more POSIBLE.NET promotions by following our Facebook and Twitter accounts.
Be a Ka-POSIBLE
Start your POSIBLE Business today.