At first glance, it looks like any branch of the country's leading meat shop, like the fruit of good business ideas. The place is air conditioned, there are freezer cases stocked with fresh meat, all enclosed by glass doors and windows. Kapag pumasok ka, alam mong quality meats ang mabibili mo compared sa typical talipapa.
However, one quick look around and you will see this meat shop is special. May sign sa window and sa loob ng shop informing you na "Load? PINs? Pera padala? Bills? POSIBLE DITO." And in the far corner, there's a POSIBLE machine—a device the size of a fax but with the power of a payment center franchise.
The owner of the shop greets us, an accommodating yet self-conscious young man wearing glasses and a crisp polo shirt. Kung hindi mo alam na businessman siya e madali siyang mapapagkamalang estudyante. "I'm Jerome, welcome," he smiles warmly and ushers us inside.
He gives us a quick tour of the place. "We have pork, and there's chicken, beef cuts, and also the quick-cook options like ham and hotdogs," he points out. There's also steak cuts in one freezer. We quickly ask him anong steak ang mabenta. "Tenderloin, of course," he replies. True enough, ubos na ang stock niya for that day as wala siyang makita sa freezer para maipakita sa amin.
"Our customer count last year was from seven to eight percent," Jerome proudly explains. "Ever since we had POSIBLE, it rose to 10 percent and above. Mas naging OK ang business namin," he adds.
Business pioneers
To better appreciate what Jerome Torralba, 27, full-time businessman and Ka-POSIBLE Partner, has accomplished, magandang tingnan ang family background niya. "All my life I've been around business people," he narrates. "My parents were kind of like business pioneers. They were the first to open a drugstore franchise in Mindoro, which is there up until now. And then they invested in a (then up-and-coming) computer school franchise (which is presently one of the largest colleges in the country)."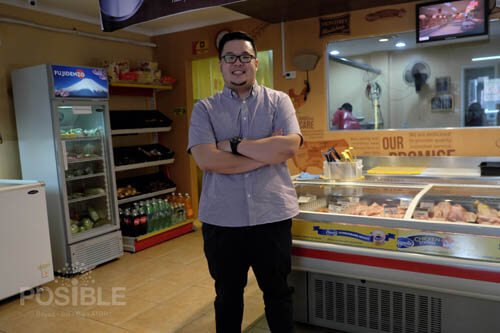 Were his parents always in the field of business? "No," he replies, amazed. Kahit siya hindi maitago ang paghanga sa parents niya. "My dad came from the aviation industry. Together with my mom, they really had no background in selling medicine, but they started their drugstore business and the school. And then they started this meat store here in Parañaque." With such a background, and parents brimming with business ideas, it wasn't a surprise for Jerome himself to be in it as well. "This is my destiny, I guess," he chuckles.
Starting the meat shop in itself was a challenge, despite the name recall of the country's leading meat retailer. "We started this about 10 years ago," Jerome explains. "It was very difficult at first because we were introducing a business to a community na sanay sila bumili sa palengke and sa turo-turo. The challenge was, we needed to establish ourselves as their go-to place when they need to buy quality meat, pero at the same time kelangan affordable."
Sales were low at first, as expected, but after a year of "prayers, patience, and hard work," the numbers started to go north. Jerome credits his parents for their labor and dedication. "My mom and dad were really the ones who pushed through," he says.
POSIBLE advantage
Looking back on his parents' experiences, Jerome can't help but draw parallels to his own experience as a Ka-POSIBLE Partner. "I was very hesitant at first because I didn't know what I'm getting myself into," he recalls. "POSIBLE was basically an unknown business to me. A family friend introduced it to me, to my wife, and to my parents as well, and we decided to give it a shot.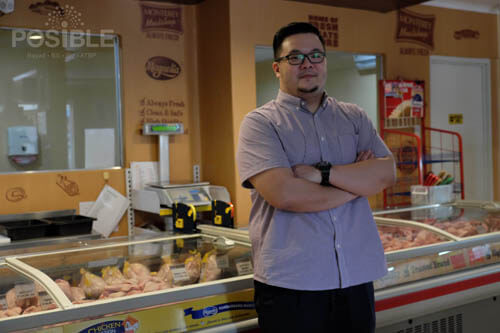 "Siyempre at first, it was quite hard because of ups and downs in the business," Jerome adds. Then there was the competition. "We have two competitors here in our village—two very well-known companies who dominate the money remittance market. Our only leverage was, we had meat, we had food, and the only thing that's been missing was this, POSIBLE."
Jerome then can't suppress a smile. Parang, kahit siya hindi makapaniwala sa mga nangyari. "Our customers loved the idea of having a one-stop-shop here in our meat store. They can shop and at the same time pay their bills with POSIBLE. Dumating sa point na yung competitors namin, sinasabihan nila yung customers nila na, 'Dun kayo magbayad ng bills sa meat store, may POSIBLE dun.' They actually shut down their bills payment service and concentrated on remittance na lang. In fact, our competitors even pay their bills through us," Jerome chuckles.
How did POSIBLE give them such an advantage? For one, Jerome points out how POSIBLE capitalized on their location. "We are in the middle of BF and Bicutan. Traffic's really bad so most of the people who would pay somewhere else will just choose here for their convenience. Plus they can shop in our shop, buy something for the house, and at the same time pay their bills," he explains.
Looking for business ideas? Go POSIBLE
Despite the early struggles, Jerome now only has positive words for his POSIBLE experience. The most obvious indicator for the rise of their meat shop was the steady increase in clients. "Most of our customers are our suki from when we started way back, years ago," he says. "Surprisingly, our new customers have been coming from the masa and it's amazing and quite shocking when they pay their bills—umaabot ng worth 3,000 to 5,000 pesos! Customer relationship-wise, I think they like our service because we're a bunch of very happy people around here," Jerome adds.
He's also quick to recommend POSIBLE for entrepreneurs looking for business ideas to level up their venture or start a new one. "The device is very easy to use, you just have to have your bill ready, input your account and reference number, then you're done, you're good to go," Jerome explains. But he also reminds aspiring entrepreneurs to do the hard work.
"You have to be patient, prayerful, and be very persistent," Jerome adds. "Listen to older people who have been there and experienced worse than you, so you wouldn't go through what they've been through and you would know what to do. Study your market and understand how your market is and how it grows. Also, choose the right business."
More than even the best business ideas, Jerome reminds entrepreneurs to never forget the "meat" of the matter. "Being in business is very simple, I guess," he says. "You just have to understand what you're doing, love what you're doing and be happy. At the end of the day, it's always about serving other people. Money is second, but it's for really helping other people out, like helping them pay their bills on time. That's what makes me happy and that's what I chose to do in my life."