You already have the store, the customers, and the product, but you feel your business can do more. How can you level up business so you can reach more customers and generate more income?
Entrepreneurs managing micro, small, and medium enterprises or MSMEs were recently given helpful tips to level up their business. At the POSIBLE.NET launch event held at Holiday Inn & Suites in Makati City last January 24, industry experts shared advice for Filipino MSMEs.
According to Undersecretary Zenaida Maglaya of the Department of Trade and Industry (DTI), MSMEs are the key to making progress in the country possible. Thus, she notes that these businesses need to be strong and resilient in the marketplace. "With many growing industries today, it's important that MSMEs establish themselves," Ms. Maglaya said.
Here are three easy steps for MSMEs to level up business and grow their value significantly:
1. Find a need and meet it
"For your business to grow and be unique, you have to find a need and meet it," Ms. Maglaya explained. Fresh products and gimmicks can boost a store's presence in an area, but the novelty or newness can wear off easily. Thus USec. Maglaya believes it is better in the long run to find needs in the community that your product can address.
"We looked around and we saw how difficult it was for our neighbors to pay their bills," Mary Ann Sios-e, a Ka-POSIBLE Partner Retailer, said. Together with her husband, they decided to start a POSIBLE.NET business in their village. From there, the business has grown and the Sios-e couple are now Channel Partners distributing POSIBLE Business Packages to MSMEs in their district.
2. Get a loan
To level up business, one may need extra capital to fund improvements to your store or product. For this purpose, it may be helpful to secure a loan from your trusted bank.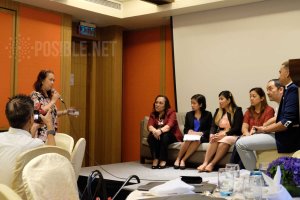 "Loans are important for a growing economy," Jenny Romero of the Bangko Sentral ng Pilipinas (BSP) said. Bank loans can provide MSMEs with much-needed capital to diversify their products or improve their product line further. "Banks are more than willing to assist Filipino entrepreneurs so they can grow their business more," Ms. Romero added.
3. Go digital
With the increasing digitization of industries, MSMEs may find themselves lagging behind. Especially vulnerable are those businesses that rely on hand-made traditions passed on from generation to generation. To level up business, entrepreneurs must find ways to adapt to a digital economy.
Ms. Romero noted that the BSP is increasing its efforts to digitize the Philippine financial system. As such, cashless payments and digital transactions are fast becoming the norm. "This is where products like POSIBLE.NET come in," she said.
With its user-friendly device and easy set-up, POSIBLE.NET can transform any typical store into a digital payment hub in the community. Bills payment, money remittance, prepaid load and PINs, and even bus tickets can be bought in just one location. "With POSIBLE, nobody gets left behind as the country leapfrogs into the digital age," POSIBLE.NET CEO JG Puzon said.
The digital challenge
Despite these helpful tips, entrepreneurs may be hesitant to embrace the idea of change. What then can help MSMEs level up business and be competitive in an increasingly digital economy?
"What will convince MSMEs to go digital is stories from people who use and benefit from platforms like POSIBLE.NET," Ms. Maglaya said. If you wish to hear more stories about breakthroughs for MSMEs, you can check out these DTI events. You can also send a message to learn how POSIBLE.NET can help level up your business or start a home-based venture.